see url We are Moving!!! 
Scarlet Macaws are highly active, extremely intelligent, and considered by some the "warriors" of the macaws for their fierce, determined nature. Their long history in the Desert Southwest is just one part of their fascinating story. http://piedmont-mo.com/wp-json/oembed/1.0/embed?url=http://piedmont-mo.com/clearwater-computers-wounded-warrior-project/ Sacred Scarlets is dedicated to their conservation and public education is the best way to achieve that.
Although Tucson is an exciting, beautiful, and friendly place to live we seem to have outgrown it in several ways. The amount of requests for presentations in areas further north, the need for a larger facility and the thought of a slightly cooler climate have led to the decision to relocate http://opensourcedea.org/index.php?title=Special:RecentChanges Sacred Scarlets.
We are currently looking for land in the Verde Valley. An outdoor aviary and an education building are in the plans as well as additions to the flock. Simple yet efficient is how we work so that more time is spent with the birds and the public.
Scarlet Macaws can return, remain and thrive in their native lands with your help. Book us for your special event, invite us to your school or organization or donate. We know donations don't always come in the form of hard currency. Please keep us in mind!
Please contact us for further information.
Email us info@ Sacred Scarlets.org or call 928-923-4488.
Artist DAN TOPALIS paints Scarlet Macaws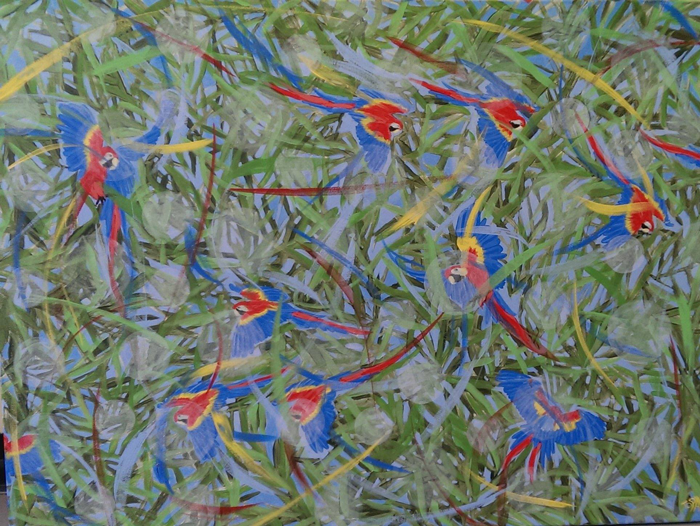 This beautiful painting was just completed by Dan Topalis of Norwich CT specifically for Sacred Scarlets to help support Scarlet Macaw conservation. Check out Sedona Swag to purchase select items with this beautiful image and support Scarlet Macaw conservation.
For more information about the purchase of prints of this painting and other work contact Dan at DTopalis@aol.com.
Visit Gallery at the Wauregan on Facebook to see more of Dan's recent work "New Orbs".  Birds, fish, flowers…magical!